Manchester NH Furnace Cleaning
Furnace Tune Ups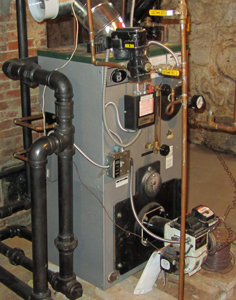 Why Should You Hire A Licensed Plumbing and Heating Specialist?
An annual tune-up and cleaning of your furnace or boiler is as important to your plumbing and heating as your annual physical is to your health. When you hire Christenson Plumbing and Heating for scheduled annual furnace cleaning services, we do more than simply change parts and vacuum out your chimney. Our clients from Concord to Keene, and Manchester down to Nashua and over to Salem New Hampshire, depend on the personalized service and attention to detail that our certified heating technicians provide year after year. Every heating service technician who comes to work on your furnace or boiler is a Master Plumber who has also received over 300 hours in specialty training for servicing all makes and models of furnace heating systems and home boilers.
Why do I need a licensed plumber to tune-up my furnace or boiler? Home heating is an integrated system of fuel, water and air. It requires knowledge in all aspects of plumbing and heating in order to be truly effective in home heating systems maintenance and repair. Especially in the area of integrated hot water systems in oil burners. Pressure levels, well pump efficiency, home filtration systems all play a key role outside of the boiler itself. We also check carbon monoxide levels around the furnace or boiler to make sure dangerous fumes are not entering the house through a leaking gasket. To isolate one aspect of your home plumbing and heating system and just work on that is to miss the big picture.
We are certified with New England Fuel Institute and follow their strict guidelines for boiler tuneups furnace maintenance. This is our detailed check list that we perform on your heating system every year and this is what sets our furnace cleaning service procedures apart from our competition:
Cleaning or replacing the fuel oil strainers
Changing the oil filter
Changing the nozzle
Checking and adjusting the ignition system
Vacuuming the furnace/boiler and smoke pipe to chimney
Checking and lubricating motors
Checking and adjusting the fan belt
Testing and regulating all burner and safety controls
Adjust the heating unit to ensure maximum efficiency
Performing an efficiency test
Clean and adjust burner assembly & blower components
Test safety controls
Lubricate all moving parts
Adjust oil/gas pressure
Replace oil nozzle
Replace oil filter and pump strainer
Measure temperature difference
Clean condenser coil
Clean evaporator coil, if accessible
Measure volts/amps
Check refrigerant pressure
Check flue draft
People sometimes wonder, shouldn't my oil or gas company service my furnace or boiler? An oil or gas company's primary business is the distribution of fuel. They are not necessarily specialists in mechanical services. Most oil technicians have received basic courses in tune-ups and furnace cleaning. Because this is not an oil company's main focus, turnover of boiler technicians can be high. You will most likely not see the same technician year after year. Some are very good, and some are very green. For about the same cost, you can have a certified technician and master plumber clean, tuneup, and inspect your heating system instead. Doesn't it make sense to hire a plumbing and heating specialist who can pre-empt problems before they arise because they understand whole-house plumbing? If you're looking for a qualified Manchester NH furnace cleaning company, call us today at 1-888-552-1293.